EXPERIENCE DESIGN | INTERACTION DESIGN | DESIGN RESEARCH | DESIGN STRATEGY | PARTICIPATORY DESIGN | DESIGN JUSTICE
Allied Media Conference
experience design
2022

i am currently supporting
Allied Media Conference

(AMC2022)
in designing the first-ever hybrid conference in the organization's 20+ year history.
learn more about AMC 2022 >
Allied Media Projects
experience design
2021

i supported
Allied Media Projects
in practicing ways to adapt UX design practices and methods into their work, both internally and externally, in ways that center Design Justice and consentful technology.
this support included co-shaping and co-facilitating an all-staff interactive workshop to explore foundations of user experience (UX) design from a
Design Justice
lens. we also worked in departmental teams to examine possible ways of working with experience design and Design Justice to (re)design and (re)shape community programming, organizational operations, and ways of working together.
learn more about Allied Media Projects >
Black Womxn Flourish
experience design
2020

Black Womxn Flourish
is a design for wellbeing collective founded by
Denise Shanté Brown.
i worked with
Black Womxn Flourish
and
Wildlogic
to support digital strategy for the launch of their new website. key phases and deliverables included stakeholder interviews, site mapping, and wireframing, all through a co-design process.
support Black Womxn Flourish >
Briteweb
experience design
2019 - present

as a senior user experience strategist with Vancouver-based
Briteweb
, i have led research and design strategy for the a variety of interactive projects with organizations in the social impact sector, including Accion Opportunity Fund, Start Early, and the Global Alliance for the Future of Food.
Consentful Tech Project
training
2019-2020
i worked with the
Consentful Tech Project
to co-design and co-facilitate an introductory consentful tech workshop.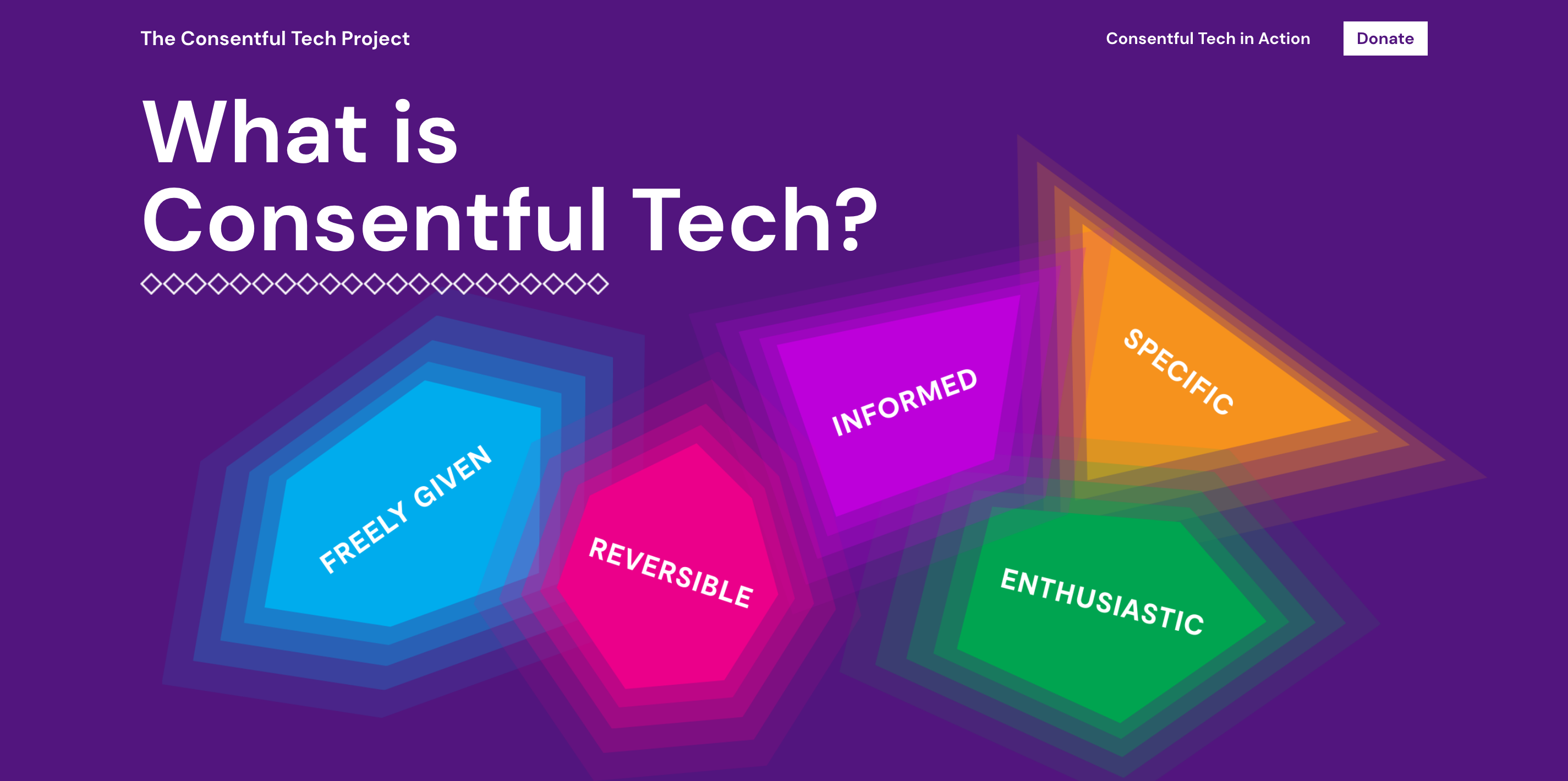 in this workshop, participants explored and defined consent, explored differences between safety and security, considered the impact of our data bodies on our communities, and explore core elements of digital consent through the FRIES framework.
this workshop is shaped and informed by
Our Data Bodies: Digital Defense Playbook
released by the
Our Data Bodies Project.
purchase zine >
support the Consentful Tech Project >
Design Justice Network
experience design
2018-2019

the
Design Justice Network
is a collective of mediamakers, technologists, storytellers, educators, facilitators, and artists committed to practicing
Design Justice Principles
.
i worked with peer members of the Design Justice Network — including designers, developers, and strategists — to redesign the network's website.
within the broader redesign process, i co-designed and co-facilitated community surveys, identified core goals and pain points, reshaped information architecture, build wireframes, and conducted usability testing.
support the Design Justice Network >
Equity-Centered Community Design: Trainings + Field Guide
experience design
2017 - 2018